MaGi part of ARTVENTURERS at Trinity Art Gallery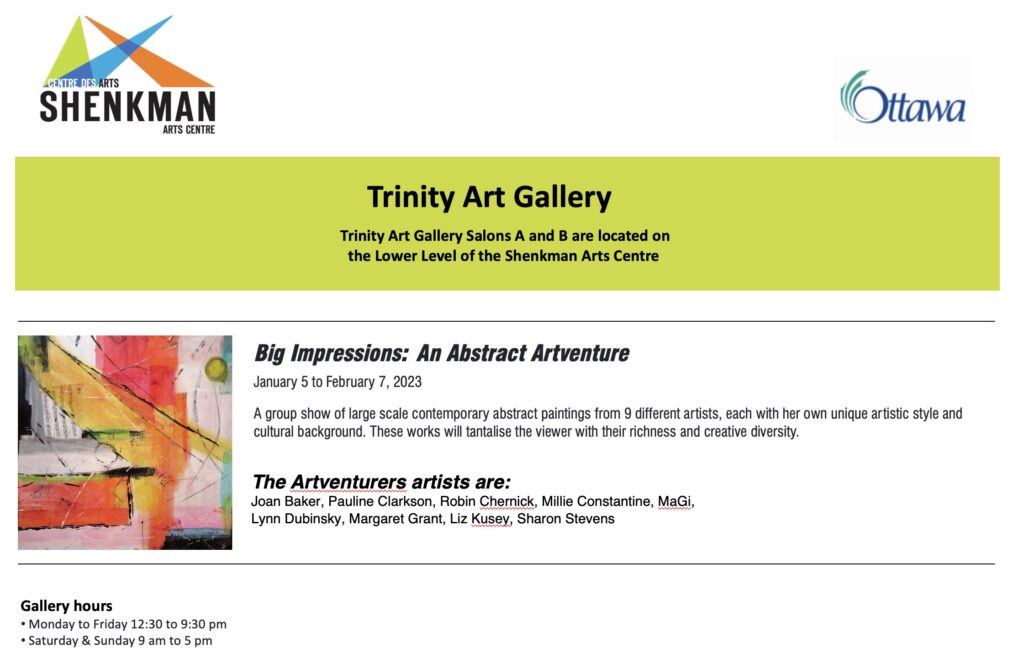 Vernissage – Artventurers
January 12, 2023 – 6 PM to 8 PM
Shenkman Art Centre | Trinity Gallery, Salon A & B | 245 Centrum Boulevard, Ottawa (Orléans), ON
Big Impressions: An Abstract Artventure.
A group show of large scale contemporary abstract paintings from 9 different artists, each with her own unique artistic style and cultural background. These works will tantalise the viewer with their richness and creative diversity.
Joan Baker, Robin Chernick, Pauline Clarkson, Millie Constantine, Lynn Dubinsky, Margaret Grant, Liz Kusey, MaGi, Sharon Stevens
Exhibition from January 5 to February 7, 2023
(Français)
Vernissage – Artventurers
Le 12 janvier 2023 – 18 h à 20 h
Centre des Arts Shenkman | Salon A & B, Galerie Trinity | 245, boulevard Centrum, Ottawa (Orléans), ON
Grandes impressions: Une artventure abstraite
Une exposition de groupe de peintures abstraites contemporaines à grande échelle de 9 artistes différents, chacune avec leur propre style artistique unique et milieu culturel. Ces œuvres raviront les spectateurs par leurs richesses et leurs diversités créatives.
Joan Baker, Robin Chernick, Pauline Clarkson, Millie Constantine, Lynn Dubinsky, Margaret Grant, Liz Kusey, MaGi, Sharon Stevens
Exposition du 5 janvier au 7 février 2023